There are several things that contribute to shoulder impingement and rotator cuff pain.  Perhaps one of the biggest issues that impacts overhead athletes, Crossfit enthusiasts and the avid weight lifter is limited shoulder mobility.  Poor flexibility in the pecs, lats, posterior shoulder as well as limited thoracic spine extension and rotation all contribute to suboptimal movement.
Poor mobility can place the scapula in biomechanically flawed positions, increase glenohumeral internal rotation and restrict shoulder movement at end range creating compensatory movement and pain.  The video below is a snippet from my upcoming webinar on rotator cuff dysfunction and nonoperative treatment.
This webinar will be great for strength coaches, exercise enthusiasts, Crossfit athletes/coaches, athletic trainers and physical therapists. If you want to attend the webinar or catch the on-demand version, simply visit www.alliedhealthed.com.  In addition, you may find my DVD on rotator cuff training very helpful in overcoming shoulder pain and staying pain free in the gym.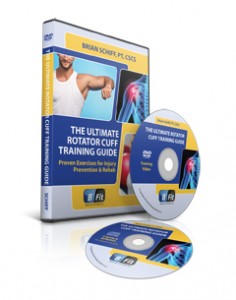 Click here to see a brief video overview of the DVD or visit my site at www.BrianSchiff.com for more info.  Use the code Holiday15 at checkout from today until December 25 to save $10 off the retail price.
Have a great Thanksgiving and enjoy your time with family and friends!