I have a steady flow of baseball players who come to see me for shoulder and elbow rehab. As a former pitcher whose playing career was altered by an arm injury at age 14, I have a particular interest in throwing injuries. My son is a 6'2″ left-handed pitcher that plays showcase baseball. He will be the subject matter of this post moving forward.
Many of the players I see for shoulder and elbow pain suffer from pathological GIRD (glenohumeral internal rotation deficit). While it is common to see throwers with less internal rotation on their dominant side, it is important to assess total shoulder motion to make sure their mobility is within 5 degrees of their non-dominant side. Asymmetry in total shoulder motion and shoulder flexion increase the odds of elbow injuries. Click here to see the correlation in professional pitchers. Additionally, insufficient external rotation gain on the throwing arm increases injury risk. Click here to read an abstract summarizing data within the same group of professional pitchers.
Given this information and my background, I have preached arm care for years to my son. For some background, my son has pitched since he was 9 years old. Since I have been a coach for his team in one capacity or another since he was 10, I have closely monitored and controlled his pitch counts, innings per outing and total innings per year. He has always been able to throw hard, but he had a big growth spurt in middle school and his velocity grew with that.
He now throws between 75-77 mph as a HS freshman. He is projected to be 6'5″ tall and weighs 170 pounds at this time. His showcase coach pitched in MLB, and we have two other organizational pitching instructors with big league experience who supervise his weekly bullpens. His total innings pitched for 2017 = 43. Research indicates anything over 100 significantly increases injury risk. With all that said, he has developed some medial elbow pain over the past 4 months. He has no history of arm trouble to date. My intention is for this post to serve as useful diagnostic and proactive intervention for those who may see and experience similar cases.
My son first developed tightness/soreness in the medial forearm in late June/early July. It showed up during a bullpen session with one of his pitching coaches. He told me it was mild, but he primarily felt it when throwing his slider. A quick exam after practice revealed no marked tenderness, no instability, no GIRD, and no swelling. He had zero pain with positional throwing or long toss that day.
Given this, I told him it was probably muscular in nature. I asked the pitching coach to keep an eye on his mechanics and ensure he was not coming around the ball or improperly throwing his breaking pitches. The feedback I received from them was that there was nothing obvious to them that was mechanically flawed. It is also important to not he throws a very small percentage of breaking pitches in games. Therefore, our plan was to use soft tissue work, stretching, strengthening and modify pitching as needed based on his pain response. His soreness was always mild, never peaking much above a 2-3/10. He threw 1-2 subsequent bullpens and had two competitive outings in July as follows:
7/14 – 4 IP – 69 pitches
7/28 – 1 2/3 IP, 31 pitches
He was not impacted by the soreness during these outings. We had a three week break before after the final outing before ramping up for the Fall. That break alleviated all soreness, and he was back to throwing 100% pain free in the subsequent bullpen sessions. He threw 60 pitches at Charleston Southern University at a team showcase in mid September and felt perfectly fine. Next up, he went 4 scoreless innings on 9/30 with 80 pitches and looked great with 1 hit, 0 ER and 8 K. However, as he came off the field he told me the last 5 pitches in the final inning were extremely painful. The pain was in the same region he had felt it in before.
Obviously, he should have pulled himself from the inning as soon as he felt pain. He knew this, as I have told him countless times to never throw through elbow pain. But, the competitor in him wanted to finish the inning. Once at the hotel, I examined his elbow. No medial instability, no obvious swelling, tenderness was present along the flexor pronator wad and medial epicondyle, along with very mild pain with Milking maneuver. No numbness or tingling. No tenderness over the UCL. Strength was normal with mild pain elicited with testing of flexor carpi ulnaris.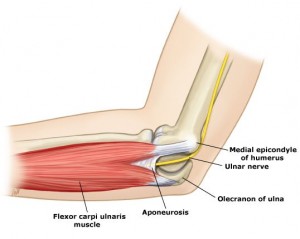 So, my initial impression was muscle strain with some tendinitis. Given he did not feel a pop or have sudden pain with one pitch, along with the absence of gross instability, I felt pretty confident he did not tear his UCL. Immediate treatment was one week off from throwing, NSAIDs, ice, shoulder and elbow arm care, and manual soft tissue work to the flexor pronator group. He was able to resume throwing the next week (10/7) up to 90 feet pain free.
His next scheduled bullpen was 10/10 leading up to our tournament on 10/14, 10/15. Unfortunately, he felt pain immediately on his first fastball in the pen that night. Re-eaxamination revealed tenderness over flexor pronator wad, tenderness over common flexor origin, no medial instability and pain with Milking maneuver. Once again, his strength was normal. Given the recurrence of pain and increased tenderness, I scheduled an appointment with one of our orthopedists. I needed to ensure his growth plate was not compromised prior to any more throwing and get another set of experienced eyes on him.
The x-rays were negative and the MD's assessment was in line with mine. He too felt it was most likely a flexor pronator strain.  We discussed the history and recurrence of pain and agreed to get an MR arthrogram to study the elbow and ensure there was no internal damage present. He gave my son the go ahead to play in the field in our tournament that weekend but no pitching. He played 1B and some limited outfield and thankfully had no issues throwing. In the time since this MD appointment on 10/13, treatment has primarily consisted of  soft tissue work, relative rest, NSAIDs for 7 days following  MD appointment, arm care and some limited ultrasound and LightForce laser therapy.
My son participated in a full baseball practice on 10/21 which included some long throws to cutoff men from right field. He was pain free and throwing on a line with good form. In light of this, we opted to let him throw a 15 pitch bull pen on 10/24. He completed this pain free (mixing in fastballs, change-ups and breaking balls), but did note some mild forearm soreness the next day. This soreness resolved in about 24 hours. We just had the MR arthrogram on 10/28 and are awaiting the results.
If you are reading this post, I imagine you care for or have a player, patient, friend or family member involved in baseball. As someone who sees a high volume of baseball players from middle school to MLB, I have a strong comfort level assessing and treating these injuries. When it comes to my own son, I am very conservative as no showcase or tournament at this age is worth putting him in harm's way or risking an injury that could endanger his future opportunities.
Despite not being forthright in the tournament game in September, he has been 100% honest about his forearm since. He has seen me rehab players with Tommy John procedures, so I know he has enough apprehension at this point to not be reckless or push through the pain any more. He understands the importance of discerning soreness from pain.
Some key takeaways from this post:
Do not allow players to throw through elbow pain
In the presence of pain, not typical throwing related soreness, get a thorough medical evaluation to determine the exact source of pain
Maintaining adequate shoulder range of motion is important for pitchers
Use pain during and after throwing to guide rest, rehab and return to throwing plans
Despite reasonable pitch counts, limited innings, adequate rest between outings, and doing arm care players can still develop throwing related pain
Higher pitch velocity is a factor in injury risk
Fatigue plays a role and this may vary player to player
To this last point, my son is a starting pitcher. His one weakness is throwing too many pitches from time-to-time in his outings. In part, this is related to throwing too many balls. The other issue is he typically has a higher number of strikeouts, which leads to deeper counts with the hitters. So, I really think fatigue may be an issue with him. I have talked with his coach, and we both wonder if he does not throw enough (regular throwing) to properly condition his arm for the higher demand days when he pitches. Clearly, 43 innings is a low number for a pitcher of his caliber, so overuse does not seem to be the culprit. When he was throwing daily in middle school, he never had any forearm pain during his outings. He also never threw more than 65 pitches in a middle school game.
Perhaps, my son needs more conditioning? Maybe he needs to improve his forearm strength? Specifically, the flexor carpi ulnaris plays an important role in throwing. With respect to forearm fatigue, there is evidence it can contribute to elbow injures. Click here to read an abstract related to that. So, the question still remains as to what is causing his medial elbow pain. I should have the results of the arthrogram soon. Stay tuned for part 2 of this blog post.