A quick note for those who follow my blogs.  I have been wanting to launch two new information based platforms this year: a monthly printed newsletter and online membership site.  What I have realized is that I am so busy I will likely not get both done in 2010 as I am also working on my Fit Knees DVD series as well as running my training business.
So, I have prioritized the printed newsletter titled Brian Schiff's Training & Sports Medicine Update.  My love and passion lies in sports medicine, injury prevention and sports performance training.  So, the newsletter will have the following components:
Exercise of the month – I will share pics and how to info with you
Sports performance – topics relevant for athletes and weekend warriors
Injury prevention – tips on how to stay injury free
Rehab – advice on how to rid yourself of aches, pains and injuries
Research corner – review of current pertinent research and trends
Q & A – ask me your own questions about training and injuries
My goal for this publication is to deliver solid up to date information for coaches, ATC's, physical therapists, parents, weekend warriors and athletes seeking information on how to be their physical best and remain injury free.  You can see the art for the inaugural issue soon to be released below.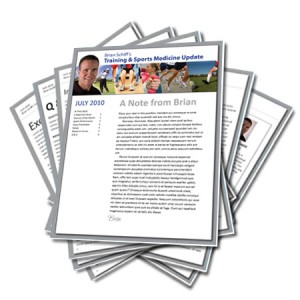 For more information and to stay updated on the official launch, be sure to sign up for my newsletters at www.brianschiff.com.  I will be offering a special launch price to the first 100 subscribers.  I look forward to helping you stay healthy and performing optimally for many years to come.