I rehab far too many athletes under the age of 18 with ACL tears. In many cases, I am rehabbing some who have suffered multiple ACL ruptures before they graduate from high school. The burning question is why do so many clients suffer a graft failure or contralateral injury so so often?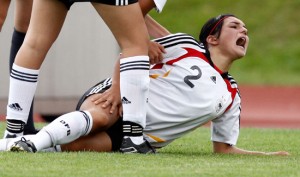 Is it related to genetics? Is sports specialization to blame? Perhaps fatigue and limited recovery is a problem. I think the answer is multifactorial, but to be perfectly honest we as a profession have yet to truly arrive at a consensus as to when the "right time" to return to play is. Opinions vary widely based on the athlete, sport, native movement patterns, graft choice, additional injuries (ligament, cartilage or soft tissue) and the provider.
As a clinician dedicated to both prevention and the best rehab, I am always re-evlauating my own algorithm and rehab techniques, while looking for scientific rationale to direct my exercise selection and decision making processes. A recent paper by Webster and Feller in the November 2016 edition of AJSM looked at subsequent ACL injuries in subjects who underwent their primary ACLR under the age of 20 utilizing a hamstring autograft reconstruction procedure.